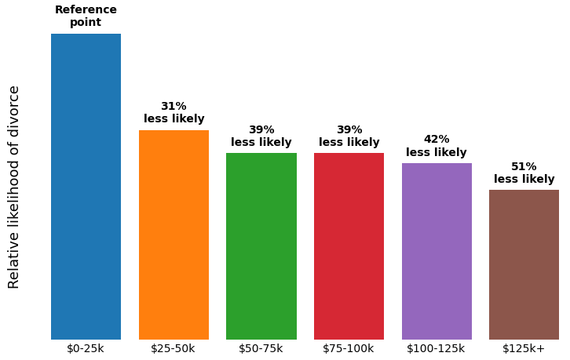 Couples who make more than $125,000 a year (combined) cut their divorce risk in half.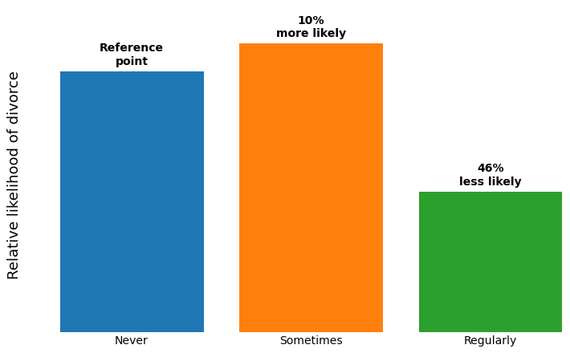 Same with regular churchgoers.
Do the Partner's Wealth or Looks Matter?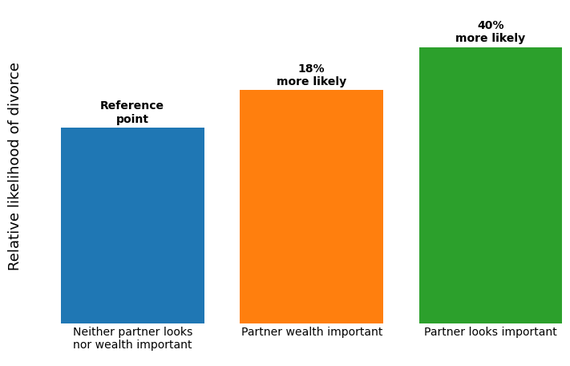 Men are 50 percent more likely to end up divorced when they said their partner's looks were important in their decision to get married, and women are 60 percent more likely to end up divorced when they cared about their partner's wealth, compared to people who said they cared about neither.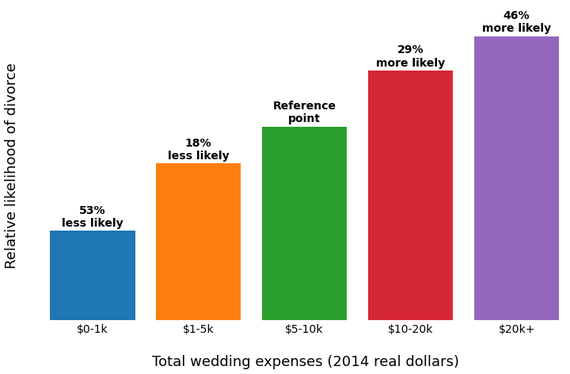 … but make sure it's cheap. "The more you spend on your wedding," Olson notes, "the more likely you'll end up divorced."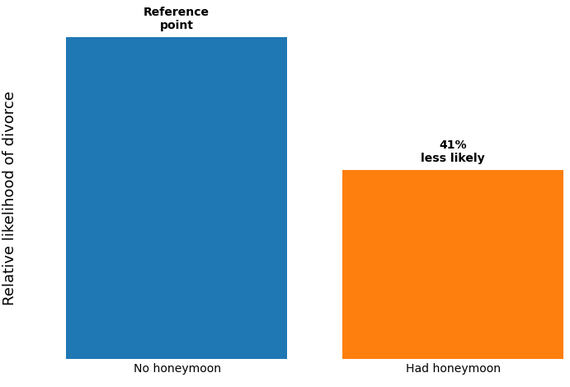 Go ahead and take that trip to Bali. Honeymoons decrease the chances of divorce by 41 percent.
Part of the study echoes what we already know about marriage: That it's increasingly for rich people—who make a lot and can afford honeymoons.
Dating for a while before tying the knot might indicate a level of planning that suggests the couple is in it for the long haul. Similarly, a well-attended ceremony might be a proxy for a large family that pressures and/or supports the couple and helps them stay together.
A strong marriage, in other words, is an intentional one.
But the other findings, like the fact that expensive rings and ceremonies don't yield happier unions, are more surprising. Perhaps ill-matched couples use giant diamonds or flashy weddings to cover up the cracks in their emotional foundations. Or maybe couples that have modest rings and receptions feel that their boundless love is a celebration enough. Maybe this is all being thrown by some hidden Kardashian variable that none of us has uncovered yet.
Whatever the case, Francis and Mialon conclude that "our findings provide little evidence to support the validity of the wedding industry's general message that connects expensive weddings with positive marital outcomes." The average wedding now costs about $30,000, however, so this does not bode well.
Now, feel free to navigate to the upper left-hand corner of this page, click on the "print" button, and lay this article before the mascara-streaked face of the nearest Bridezilla.
We want to hear what you think. Submit a letter to the editor or write to letters@theatlantic.com.